Pure Steam Generator RPS
REMOIN is an industrial company specialized in the design and construction of Pure Steam Generators, according to F.D.A./cGMPs. Pure steam generator includes an exchanger with double plates DTS, vertical, and connected to a vaporization chamber, on whose head top a clearing parcel "Vicotex" is placed to avoid any drag of micro drops of water not evaporated and the following contamination of pure steam.
The pure steam generator will be connected tri/clamp for all process connections, with a safety device at the overpressure consisting of a bursting disk with a support for the vacuum, PLC for a sequential control, high pressure alarms, high/low level, electro pneumatic diaphragm valve controlled by PLC, all mounted on a polished structure in Stainless Steel AISI 304 The exchanger and the vaporization chamber are insulated by fibreglass with finish in Stainless Steel AISI 304 polished/pickled.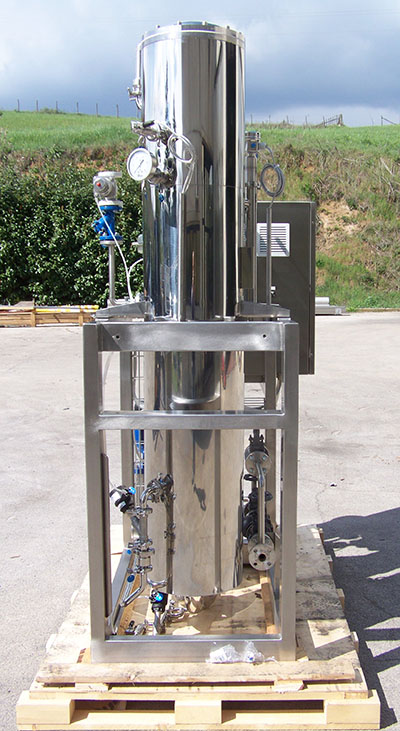 REMOIN pure steam generators can produce a minimum of 50 kg/hour, to a maximum of 4000 kg/hour.
Type of materials:
- Stainless steel AISI 316L/304L
Application fields:
- Pharmaceutical/chemical
- Alimentary
Quality controls:
- Roughness
- Penetrant liquids
- Radiographic tests
- Ferrite
Material certificate Qualifications:
- EN, ASME, ISPESL, TÜV, PED97/23/CE
Surface finish:
- Internal: Ra ≤ 0,5μ
- Esternal: Polished/Mirror polished.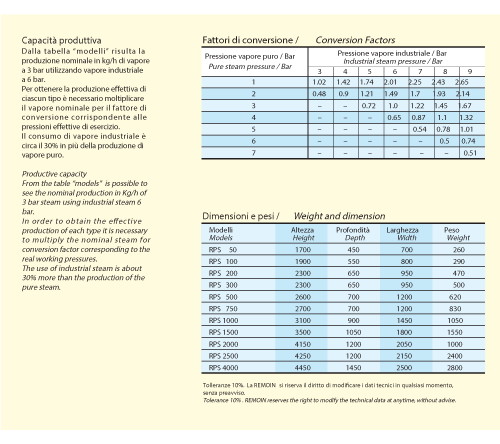 RPS PURE STEAM GENERATOR gallery