OSMO-REM
The unit of OSMO-REM are available in various versions from 300 It/h to 6000 It/h (higher flow rates available). Skid-mounted system for the production of Purified Water and Highly purified Water, in accordance with the Ph. Eur. And the US Pharmacopoeia. The design allows each system to be pre qualified during the Functional F.A.T Test.
The OSMO-REM System is designed to purify water by forcing it through the membrane. The fluid controls provide a means of managing flow rates and pressure, high flow rates and short regeneration cycles minimize microbiological growth. The OSMO-REM modules permits hot water sanitization. Hot water prevents growth of Biofilms, with no need to rinse out disinfection chemical.
SPECIAL FEATURES:
- Design and realization according GMP Guidelines and recommendations of the ISPE Engineering guide and of the FDA.
- Parts in contact with the medium made of stainless steel SS 316L with Tri
- Clamp connections, no dead zones and with a surface roughness < 0.6 μm.
- Continuous circulation to prevent bacterial growth when the tank is full.
- PLC controller Panel, capable of interfacing with a higher level control system, easy- to-use controller for the acquisition and processing.
- All systems they can be provide with EDI
- Module for the production of pure and highly purified water.
- All in a compact SKID - MOUNTED made in stainless Steel 304.
APPLICATION:
- Drinking water production from brackish, solphurous or very mineralized water, which are not treatablefor tecnical or cost reason
- Drinking water from sea water - Feed water for distillers to industrial and pharmaceutical cleaning or process water production
- High pure water for electronic industry
- Production of dialysis liquid for hospital use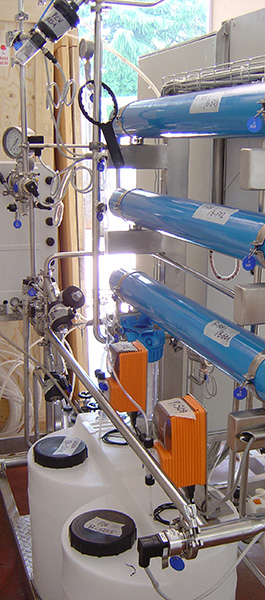 ON LINE INSTRUMENTS:
- Conducibility probe
- Flow meter
- Temperature probe
- Pressure gauge
PARAMETERS:
- Pressure: 20÷40 bar
- Temperature: working temperature ~15°C
- Flow velocity: ~1 m/sec
TEST:
- According to project specifications
- According to project performance
- Materials, test and qualification certificates
PLC CONTROL:
- System operating report
- Remote control by BUS
- Alarms
- Set point
SERVICES:
- Commissioning
- Staff training
- Validation assistance
- On-demand services
- Maintenance and Supervision programs
- Replacement parts and consumables
STANDARDS & REGULATIONS COMPLY:
- USP/FDA
European Pharmacopoeia

OSMO-REM gallery