M-REM-T thermocompressor
Remoin is a company specialized in manufacturing of thermo-compression distillers suitable to produce distilled water for injection WFI according to the requirements of all international pharmacopeias.
Thermo-compression distilled are briefly named M-REM-T and they can produce distilled water from a minimum of 50 l/h to a maximum of 5.000 l/h; it is also possible to supply distillers having a bigger production capacity, on customer request.
The Remoin M-Rem-T Thermocompression distillers always operate with an internal pressure higher than the atmospheric avoiding any possibility of outside air entering the plant.
In every distillation phase, the distillate is always at a pressure higher than the infeed water thereby ensuring that in the likelihood of leakage of feedwater will never enter the distillate circuit.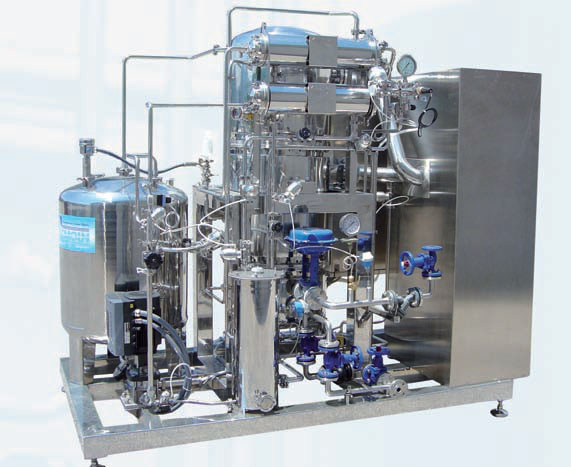 The distillate leaves the plant at a pressure of 1,5 bar. Distillers are completely stainless steel AISI 316L manufactured; all the inner surfaces, which are in contact with the product, have a roughness Ra ≤ 0,4 μm; all the surfaces are pickled and passivate and it is possible to require for electro-polishing optionally.
All external surfaces are satin / mirror polished. Plumbing is made of AISI 316L pipes according to ASTM A 270 and ASME BPE rules. All the welds connecting pipes with fittings will be made by TIG with orbital automatic procedure and printed report; it is also possible to require for boroscopy, optionally. Gaskets are sanitary type, Teflon made.
Distiller is sustained by a tubular satin frame in stainless steel AISI 304. Distiller is provided with the electrical control board having PLC/PC and user interface (HMI) to control and manage the necessary phases.
It works fully automatically and it gives the following chances:
- sterilization of the plant after long stop, before start up;
- continuous conductivity control of distilled water produced and automatic drainage if purity is not enough;
- continuous levels control;
- operation of all required phases, according to a weekly schedule.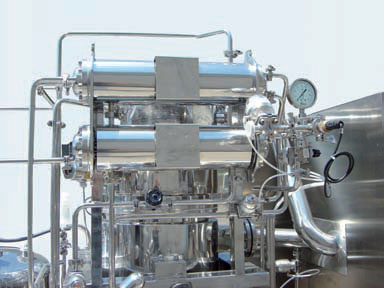 Documentation provided by Remoin Srl together with plants includes all phases of project creating up to final tests at customer site, and it has all the information needed for plant validation ( D.Q.; I.Q; O.Q; P.Q, instruments calibration and computer validation).
Our M-Rem-T distillers operate:
- with electrical heating
- with steam heating (3 bar)
- both with electrical and steam heating systems

M-REM-T gallery